Message from the Head of Department of Psychology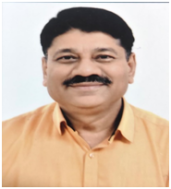 The post-graduate Department of Psychology, Sardar Patel University was started in1981 with a view to provide specialized training and teaching in the discipline of Psychology for students coming with rural background. It had 7 students to begin with, with Dr.J.C.Parikhas its only teacher, he was appointed as a lecturer. In 3rd November, 1981, also Dr.J.B.Pateljoinedas a lecturer in the Department on first January 1983.
Prof. (Dr.) Pramod Kumar was joined in this Department on 20th June 1983, he was appointed as Professor and Head of the Department. Dr. Pramod Kumar was the founding member and Head of thisDepartment and he was retired from 14th June 1998. Later onDr. M. M. Pateljoined as a lecturer in the Department on 8th July 1983 andhe was retired from 14th June 1991.
Dr.N.R.Parmar was appointed as a lecturer in the department on 29th august 1991, and continued his services till 30/11/2004. He was relieved form the services of sardar Patel University to join as a principal  of Nailini-Arvin & TV Patel Arts college, Vallabhvidyanagar w.e.f.1-12-2004 he was retired in the status.
Dr.Deepak Bhatt joined as a lecturer in the department on 26november 1991&renderedhis services till 9th sept.1998.
Sudhir Mukharji joined as a Reader in the department on 15 September 1995& he was rendered his services at the Department till June 10,- 2002. He obtained VRS from June 2002 onwards.
Dr.Lax R.Yagnik joined as a Professor in the department on 18th April 2002& he was working in the department till 03rd September, 2015.
With the help of highly trained faculties the Department started providing specialization in Industrial/Organization and Abnormal/Clinical Psychology along with option of Dissertation in lieu of one elective subject at the post-graduate level. Not only that in 1994, the Department introduced one year M.Phil programme in Psychology it was, the only Department in the state of Gujarat to provide such a programme in Psychology. The Department also started providing facilities for doctoral research, mainly in applied area, in the following years.
The Department has remained fairly active, both academically and professionally, during this period. It has the destination of organizing successfully seminar/conferences/workshop, both at the regional and national level. In addition it has been participating different areas in organizing training and lecture programs for various agencies, like industries, co-operativessociety's different colleges and different universities of Gujarat state,& in INDIA. The Department has also carried out different academic and welfare activities under the University Exchange Programme and UGC scheme exchange programme, and welfare groups (Rotary & Lions) blood donation programme, both at local and outstation for the benefit of community.
The main areas of research which were under taken by the department were ofapplied nature like mental health, meditation intervention, job-satisfaction, organizational health, Stress and tension reducing programme, teacher effectiveness, marriage&family life ect. At master degree, M.Phil and Ph.D.,level.
Dr.Suresh M.Makvana joined as a lecturer in this Department on 01st September 2005, and he was Associate professor from 1st September 2009 he became professor from 1st April 2012, noware working as a Professorand Head at the Department of Psychology Sardar Patel University from 18th January 2016 to till date and day.Dr Samir J. Pateljoined as a Reader in the department on 03rd February 1998.He become Professor, he was head from 17th October 2011 to 16th January 2016, during his headship department was started B.Edand M.Ed, in special education Programme Permitted by R.C.I., New Delhi. Dr.Sangeeta Pathak joined as a lecturer in the Department on 25th October 2005 & now she is working as an Professor in the Department. Dr.Pankaj S. Suvera joined as a lecturer on 21 July 2005, and he is Associate Professor continued till today. In the development during the time more than,11 (eleven) students has cleared the GSLET exam.
Five students were received the national fellowship for M.Phil degree namely Mr Vikas Rohit, Mr Sunil Jadav , Miss Kiran A. Vaghela and Miss PoojaD.Mytra. The other achievement of the department, three Ph.D students were received the Rajeev Gandhi fellowship by Mr.Vikas Rohit, Mr.Sunil Jadav and Miss Kiran Vaghela. Also the great opportunity by Prof. S.M.Makvana, his under the supervision,working Ph.d students namely Mr.Manoj Gamit (2018-19-NFST-GUJ-00455-National Fellowship from New Delhi) and Miss Samira Khalifa (267,-NFO-2018-19-OBC-GUJ-83773, National Fellowship from New Delhi) arereceived the National fellowship from Government of India,and other Ph.D students as a Miss Palak Kansara and Miss Anjli Vyas  were received the Shodh (Scheme of Developing High Quality Research) State level fellowship from KCG, Government of Gujarat.
In the year 2021, the Department of Psychology achieved a momentous accomplishment. Dr. Vikas Rohit is an alumnus of this department he has a completed his doctorate under Prof. Suresh Makvana's supervision. The scholar has been selected as a Post-Doctoral Fellow (February-2021 Batch) by the Dr. Ambedkar International Centre, Department of Social Justice and Empowerment Government of India, and his Post-Doctoral work will be supervised by Prof. Suresh Makvana, the head of the department
Thank you for watching our website