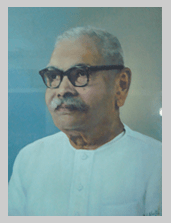 One of the greatest sons of the soil, revered Shri Bhailalbhai Dyabhai Patel, fondly known as Bhaikaka, was born on 7 June 1888 at Sarsa in the Anand District of Gujarat state. A Charotari patidar by birth, and a civil engineer by training, he had braved the shock of the death of both his parents in quick succession at a very young age. He received his education in Sojitra, followed by Vadodara, and subsequently at the University of Pune from where he secured a Diploma in Civil Engineering. He began his career in engineering as a Supervisor in Mehsana, and gradually rose to become an Overseer in Dhulia in the then Bombay Province, and to become Assistant Engineer in a sub-division of Pune. 1923 saw him take up the position of an Assistant Engineer in Sukkar Barrage project in Sindh (now in Pakistan) and then worked as an Executive Engineer of the same Barrage project. Recognition of his engineering skills came in the form of the position of Executive Engineer in the Special Roads Division in Sindh.
Bhaikaka was thus at the peak of his career as an Engineer when he sought premature retirement from Government Service in 1940 at the behest of Sardar Vallabhbhai Patel, and joined Ahmedabad Municipality as Chief Engineer. This was the time when his mentor, Sardar Patel began to visualise what a soon-to-be independent India would require, and advised him to give up all this and help him in transforming Charotar into the focal point of India by serving the rural countryside so as to control migration of people from villages to towns in search of education, employment and healthcare. Bhaikaka resigned from this office too in 1942 at the behest of Sardar Patel, and was appointed as Chairman of Charotar Education Society in Anand, a few years before moving on to what we now know as the township of Vallabh Vidyanagar on 3 March 1946, but not before registering Charutar Vidya Mandal as a Charitable Education Trust on 10 August 1945. What was once a wilderness at the tri-junction of Karamsad, Bakrol and Anand thus became Vallabh Vidyanagar, and the 'Vallabh' was prefixed to 'Vidyanagar' in recognition of Sardar's advice to work for rural uplift. Containing migration required that the reasons for migration be addressed, and Bhaikaka began to work on a plan together with Shri Bhikhabhai Patel, a dedicated and farsighted educationist, who shared Bhaikaka's vision.
Bhaikaka believed that capital does not only consist of monetary resources but also of intellect, experience, efficiency, appropriate psychological attitude, and even work, for these brought together would constitute a resource greater than any of these elements singly. Soon, Vallabh Vidyanagar started taking shape and he began to establish one institution after another. Nine years down the line, he felt that the time has come to set up a rural university and thus came into existence Sardar Vallabhbhai Vidyapeeth (renamed as Sardar Patel University in 1968 after receiving recognition under 2f of the UGC Act) on 30 October 1955, and it was only too natural that Bhaikaka was named as its first Vice Chancellor. Interestingly, the 'Sardar' in the name of this university was yet another tribute to Sardar Patel. A year after completing his three-year term as Vice Chancellor, Bhaikaka resigned as Chairman of Charutar Vidya Mandal and launched into politics as the head of the Gujarat unit of the newly formed Swantantra Party. He was awarded the degree of Doctor of Science (Honoris Causa) by the university he founded at its special convocation on 12 November 1959. He was elected to the Gujarat Legislative Assembly in 1962 and as Leader of the Opposition in it. He practised value-based politics and cooperated with the Government of the day in the interest of Gujarat and the country but was scathing in his opposition to idle thinking, hasty legislation, myopic policies and corrupt practices. Bhaikaka breathed his last in Ahmedabad on 31 March 1970 after a brief illness but was cremated in Vallabh Vidyanagar as per his express wish during his lifetime.