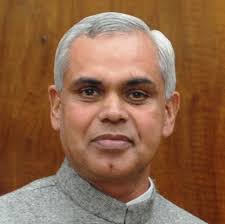 H. E. Governor of Gujarat Dr. Acharya Devvrat
Chancellor
Brief Biodata of H. E. Dr. Acharya Devvrat
Dr. Acharya Devvrat (born 18 January 1959) is the 20th Governor of Gujarat since July 2019.
He was aryasamaj pracharak and served previously as the principal of Gurukul in Kurukshetra, Haryana.
Being the Governor of Gujarat, he is also the Chancellor of state universities of Gujarat.
He has been the principal of the Gurukul since 1981. The institution is run by Arya Pratinidhi Sabha, Rohtak, without any financial aid from the government,
He has served as a mentor, guardian, principal and warden of Gurukul kurukshetra since 1980s. He was known for his honesty, discipline, punctuality in his daily life.
Dr. Devvrat completed his post-graduation in Hindi from Panjab University in 1984. He has been working for a pollution free environment. He has been closely associated with campaigns against female foeticide and the "Beti Padhao-Beti Bacahao" campaign. He has travelled to Europe and South East Asia for propagating Indian culture
As a first administrative act of its kind in the history of Himachal Pradesh, Devvrat has initiated steps for directly taking up social issues including drug abuse and intolerance. The governor held a meeting with senior bureaucrats from the state administration to monitor the steps taken to check these social evils on 3 November 2015.