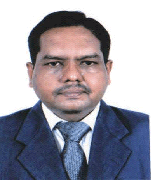 Name: Dr. Navinbhai Punambhai Chikhaliya
Designation: Assistant Professor
Specialization: Industrial Polymer Chemistry
Educational Qualifications: Ph.D (Chemistry), M.Sc. (Industrial Polymer Chemistry)
Address: P.G. Department of Chemistry
Office: Sardar Patel University
Vallabh Vidyanagar-388120

Contact: (02692)226856 Ext.213
E-mail: navin13@rediffmail.com
Expertise: Polymer structure and properties, Solution properties of polymers, Polymer Science and Technology, Sophisticated analytical instruments, Instrumental Chemical Analysis, Testing of Plastics and Rubbers, Membranes for fuel cell.